Subscribe command
Subscribes the current user to version control events for selected remote files (and/or files in selected directories). As a result, every time a version control event occurs for a file that you are subscribed to, you will be emailed a notification message. To view all users who subscribed to a certain file use Properties command.
Default Shortcut
CTRL + S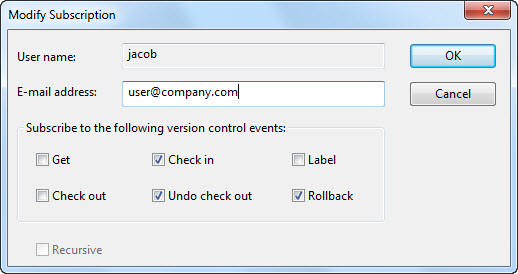 Dialog Box Options
User name
This field is read only. It shows your current user name for information purposes.
Email address
Enter email address to which you want notification messages be sent.
Subscribe to the following version control events
Select version control events on which you want to receive notification message.
Recursive
Choose this option if you want to subscribe to directories with all their subdirectories. This option is enabled only if at least one directory is selected.
Copyright © 1997-2022 PrestoSoft LLC. All rights reserved.