Find By Status Command
Use this command to turn on Find by Status mode. While FtpVC is in Find by sStatus mode, only files with a certain status will be displayed, all active directories will be marked with Find icons

, and the status bar will display the message Your current view mode is "Find by Status". Refresh to return to full mode. To leave Find Checkouts mode, use the Refresh or Refresh Without Status commands.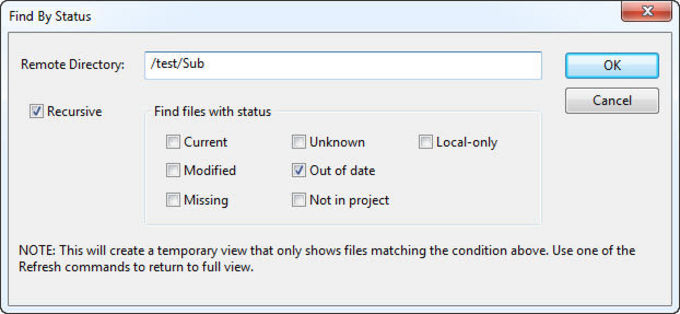 Dialog Box Options
Remote directory
Enter the remote directory path where the search will be performed.
Recursive
Select this option if you want to search all subdirectories of the remote directory.
Find files with status
Select one or more status options.
Copyright © 1997-2022 PrestoSoft LLC. All rights reserved.