Move Cursor to Address
Default Shortcut
CTRL + G
Toolbar Button


Bring up a dialog to move the cursor to an arbitrary address in a binary file.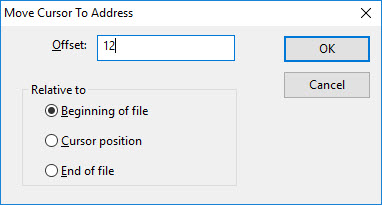 Dialog Box Options
Offset
Relative destination address. Note that addresses are "real", not including extra bytes inserted in order to synchronize two files (real addresses are shown in the status bars of each pane).
Relative to
Specify whether the address is relative to either the beginning of file, or to the current cursor position, or to the end of file.
OK
Jump to the desired address.
Cancel
Close the dialog.
Copyright © 1997-2022 PrestoSoft LLC. All rights reserved.